Animal healing / psychology
Our animals are often the dearest we have. The ones we do not do for our animals, are almost non-existent. It is not too uncommon for us to include them as part of the family. So when they are not feeling really well, we of course want to do everything we can to make them feel better. Not only because it is difficult for us emotionally but of course also because they should work as we want, both at home, at competitions and the like.
What problems can you get help from me?
I would like to say that most problems can be solved. Some take longer and others go fast, some require a lot of work from you and others almost nothing. Depending on what it is, it is always good to consult a veterinarian first. They have knowledge that I do not have and can in some cases diagnose in a way that I can not but which is still to my advantage, where I have knowledge that they do not have. A combination of both of us is to recommend. Based on them and your own openness to what can and needs to be done and looked at, most things are possible.
I use these methods:
I am trained in Unlimited Body. It is a treatment method that contains many different methods in one, including Craniosacral, Acupressure, Massage-like touch, Feldenkrais method, Chiropractic, Reiki, Rosen method and reading body language are included, as well as mental coaching, trauma and emotional processing. With this method you work with all four bodies. That is, the physical, mental, emotional and spiritual. It is very effective and important to start from the right "body" to be able to get to the core of the problem you are experiencing. Which technology / touch technology I will use thus depends entirely on what the problem is. However, craniosacral is the most common touch technique I use.
Here's how a treatment goes:
The best is if the horse has been allowed to stand inside and has rested for a while and has been allowed to eat and drink so it is not hungry or waiting for food just in time for me to come.
We start by telling you what you experience as a problem with your horse. Usually I then want to see the horse walk, to get a sense of where the problem is physically.
Then the horse can go back to his box (if appropriate) and I start to feel with my hands where the horse wants me to start. In most cases, I want you with me and present most of the time, as researching and solving the problem usually involves you just as much in different ways. I can get sensations, feelings, pictures of the horse that I both want to share and agree with you about. We put the puzzle together based on the different angles we have. You with knowledge of your horse and I with my knowledge in the different areas.
With my hands I can often feel where the problem comes in whole or in part. Sometimes I do not feel much at all and then we need to look more at the psychological. There you are extra important. You usually have a deep realtion and are close to each other. This is where your feelings come in and something we need to include in the research. It is not too uncommon for the horse and your problem to live in symbiosis. You are each other's mirrors in different ways. Sometimes they come to the conclusion that the horse is not the one who needs the healing, but you. This is something that is good to take into account, but of course it depends on what you feel ready for.
A session usually lasts 1.5 hours and my recommendation is to let the horse rest for the rest of the day. It is also not entirely uncommon for you to get a little homework to work with.
If you have more thoughts on how it works, you are of course welcome to contact me.
My life with animals!
So I was born and raised on a farm just outside Umeå in Västerbotten. My parents took over the whole farm and its dairy cows when I was 5 years old. So animals have always been a natural part of my life. When I was 9 years old I got my first Shetland pony named Kadett. A sweet and headstrong little thing. At 10 I got a Gotland Russ who had a foal with him.
: -O My younger sister then took over Kadett. They were a bit here it all started. Interested in competition as I became, we started going to jumping competitions. Did not always go so well. A few years later it became a D-pony and the competition continued with varying results until I got a New Forest pony named StarFigher. He was a gem. Maybe not the fastest but safe. So sure that we won the Barbie Junior Cup in 1989 in all of Sweden. The Eifel junior cup was later renamed. Then, of course, it became a big horse and the interest in horse jumping continued, but not with such good results again and the curiosity to go away to work as a groom in southern Sweden or abroad grew
I ended up in Ireland. Here, too, the road was motley before I finally ended up with an international field competition rider where I stayed for 2 years. Got to teach me a lot and also compete her horses a bit at club level. The next stable became a gallop stable, National hunt where you train gallopers who jump hurdles and steeplechase. These were a private stable and the lady of the house was very interested in alternative medicine. Here I got relatively free rein to try different treatments on the horses. Sometimes to the annoyance of others.
However, it was not until 1998 when I went to my first Unlimted Body training that I started to get some bigger and better results. I started going all over Ireland and got fantastic results.
A galloping horse whose tendons had completely stopped, I treated a number of times and when the vet came for a checkup, he could not believe his eyes. His spontaneous comment would have been "if you had said that you cut the horse's legs at the knees and sat on new ones, I would have believed you". Extremely fun to hear of course!
Another gallop horse owner took me to a large international gallop stable near Kildare, where the big gallop track is, to look at her horse. After a couple of treatments, it was ready to start again, which made the horse trainer ask me to go through and work with many of his horses. They were a powerful experience
Then life came in between and I moved home to Sweden and the focus was on so much else. So now it's time to pick this up again and with my further development, I feel that I can go even deeper in helping to make our animals feel better.
Practiced in the spring of 2019 on a number of horses, where the results we have seen have been animals that feel so much better. One horse said that it was the rider who needed healing of the neck and shoulders which was a big change for her, he was a young horse and once she started riding him he was very nice. Another horse was traumatized since his foal and was afraid of being ridden outside and being beaten when he got scared. Today she can ride outdoors with her horse and they both have a completely different peace. Great to see. Another horse had a hard-to-get-on stomach upset, he always got angry and angry when you had to tighten the saddle belt. After a number of treatments, he has become less angry and is generally a happier and more curious horse with a different appetite for life.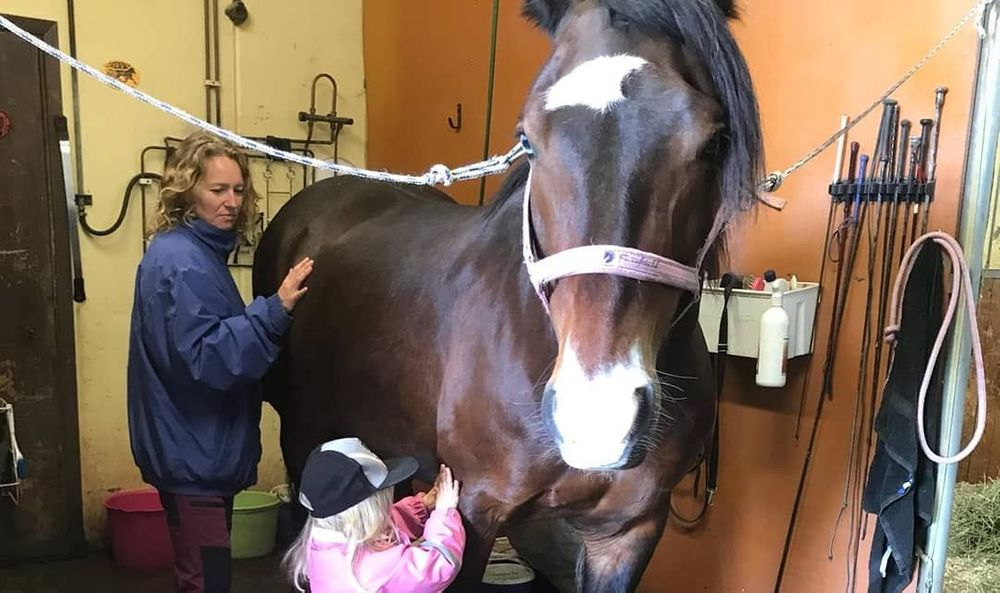 Horse healing / communication
90 min
Mile compensation SEK 30 / mile outside Vallentuna's limit.